LA REGADERA lanzan nueva version de «Canto A Mi Dolor»
LA REGADERA lanzan nueva version de «Canto A Mi Dolor»
Sep 24
Mira el videoclip de «Canto A Mi Dolor», lo nuevo de LA REGADERA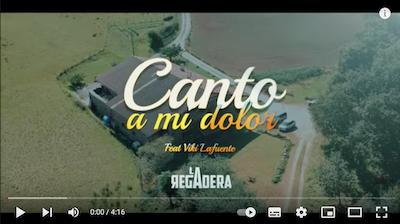 LA REGADERA han lanzado una nueva versión de su tema «Canto A Mi Dolor», perteneciente a su álbum «Trovadores». El grupo ha re-grabado el tema en los Gárate Estudios, de Andoáin (Gipuzkoa), contando con la colaboración de Viki LaFuente a las voces. El videoclip ha sido realizado por La Ventana Creativa ¡No te lo pierdas!
LA REGADERA volvieron a ser profetas en su tierra, con un lleno absoluto en Miranda de Ebro que, a pesar de las restricciones, ha sido impresionante.
El grupo continúa su ascenso, lento pero seguro, dando pasos firmes y alcanzando objetivos, mientras reclutan una base de seguidores cada vez más grande y fiel. No dejes pasar la oportunidad de disfrutar de su música y su directo ¡No te arrepentirás!
Estos son sus próximos conciertos. Pronto anunciaremos nuevas fechas:
28 de septiembre. Corella (Navarra)
8 de octubre. Medina de Pomar (Burgos)
9 de octubre. Burgos
Pincha para ver el videoclip de «Toda Una Vida»
LA REGADERA, la banda más festiva del panorama actual, ha estrenado su nuevo single «Toda Una Vida». Una genial re-interpretación del clásico de Osvaldo Farrés, que han llevado a su terreno, contando con las colaboraciones de Viki Lafuente de Viki And The Wild a la voz e Igor Urruchi al clarinete bajo. El single fue grabado en Garate Estudios, por La Ventana Creativa, con Kaki Arkarazo y Martxel Arkarazo a los mandos de la nave. Este single se suma a «Largo Invierno», que el grupo lanzó hace unos meses y que puedes escuchar más abajo.
LA REGADERA sigue trabajando en nuevo material a la vez que no paran de girar ¡No os los perdáis, os sorprenderán!
Pincha sobre la imagen para escuchar «Toda Una Vida» en plataformas digitales.
Mira el videoclip de «Largo Invierno»
Escucha «Largo Invierno» también en Spotify
Algunas fotos de sus conciertos más recientes:
Covaleda (Soria)
Salas de los Infantes (Burgos)
Miranda de Ebro (Burgos)
Narón (A Coruña)
Miranda de Ebro
Mira a continuación el videoclip de «Un Mundo Más Sano»
Escucha «Dormir Es De Cobardes» en Spotify
Mira el videoclip de «Recogeré», primer single de «Dormir Es De Cobardes»
Videolyric de «Ya Recordaré» con Jesús Cifuentes
Síguelos: